Трагедия с украинским самолетом вызвала масштабные протесты в Иране
В субботу, 11 января, после официального признания Ирана в сбивании украинского самолета Boeing 737, на улицы столицы страны Тегерана в знак памяти 176 жертв трагедии вышли митингующие.
Активисты, в основном молодые люди, озвучили лозунги против правительства. Подтверждающие видео появились в соцсетях.
Так, в частности студенты Технологического университета имени Амира Кабира под стенами Корпуса стражей исламской революции скандировали: "Смерть лжецам! Смерть диктатору!" Они зажгли свечи памяти.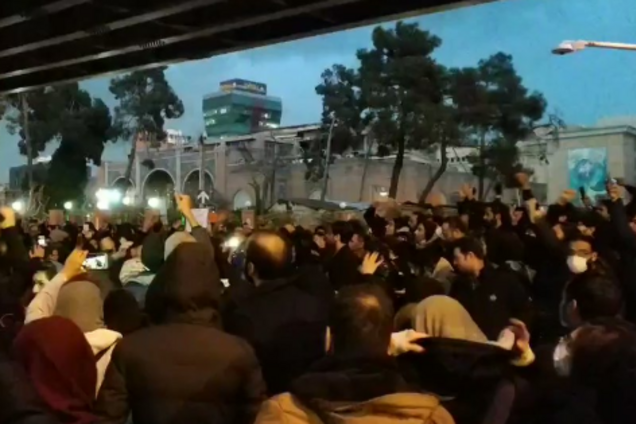 В Иране разгорелись протесты из-за трагедии с самолетом.
Протестующие также заявили, что отставки представителей власти им недостаточно – народ требует справедливости. Митинг перерос в столкновения с полицией. Правоохранители применили силу и слезоточивый газ.
pic.twitter.com/1fSKBkj28n
— برفک (@barfak6) January 11, 2020
Стало известно, что силы безопасности Ирана открыли огонь по мирным демонстрантам перед университетом Амира Кабира. В ход пошли светошумовые гранаты.
Al-Arabiya TV Now students in Tehran We are trying to spread the news and videos of demonstrations and protests in Iran immediately ... (All down the street) #WarCrimeInIran pic.twitter.com/5oQSZvzxnC
— Mansoureh 💙💙💙 (@Mansfie50071835) January 11, 2020
Very interesting developments in Iran.

Female university students in Tehran have also joined anti-establishment protests in Tehran and ask the Supreme Leader, ayatollah Khamenei to step down. Students chanting: "Khamenei, be ashamed and step down."#BBC_Enough pic.twitter.com/YmyBFtI2Tr
— Raman Ghavami (@Raman_Ghavami) January 11, 2020
BREAKING:

The Iran regime began killing the people of Tehran!#IranProtests #IranPlaneCrash pic.twitter.com/BQjZIoRYtT
— Alireza Azami (@Alireza__Azami) January 11, 2020
Отметим, несмотря на то, что сбит был украинский борт, большинство погибших были именно иранцами.
I would like to thank journalists and investigation team at @bellingcat and @nytimes and also all major TV and media channels who verified us and our published material. Not going forget those people who lost their lives in this tragic event
پیروزی روشنایی و نور بر ظلمت و تاریکی pic.twitter.com/V5adgVIYJO
— 🤖Nariman (@NarimanGharib) January 11, 2020